Hier findet Ihr meine Veröffentlichungen der letzten Jahre inkl. Back Katalog.
Von New Age, Meditationsmusik über Jazz, Ambient, electronic, Conscious Dance ( 5Rhythmen, Ecstatic Dance, Movement Medicine ) Bis zu "Space Jazz" findet ihr eine grosse Auswahl and Veröffentlichungen in den obergenannten Stilen.


Hier findet Ihr meine Musik bei den gängigen Streaming-Diensten:


A collection of tracks that are reflecting some of the events of the last 2 years - from Covid 19, to storms and floods as well as some surprises.
This is a kind of soundtrack of my mental and emotional journey of this time.
released December 20, 2021



https://listen.music-hub.com/Blm3sL

Also available on Bandcamp:
https://volkerkaczinski.bandcamp.com/album/soundscapes

______________________________________________________________________





In the middle of the space, the night shines and the Moon waxes and wanes - LUNA - music keeps you in a mystical space.



https://listen.music-hub.com/cWiCLu

______________________________________________________________________




A musical Journey, exploring Images of space travel in an Ambient musical fashion .
Electronic, Ambient, Tranquil soothing sounds, that will transport you into far out dimensions of your imagination.

https://music.imusician.pro/a/f1JPTeMy/

______________________________________________________________________



A joint production between Master Pianist, Teacher and Composer Stef Vink and Saxophonist and Flautist Volker Kaczinski. All Pieces have been created out of improvisations, which then have been fine tuned and added to by these 2 masters of their art.
https://music.imusician.pro/a/7d271Fcc/

______________________________________________________________________



This concept album emerged from recorded bits of live performances I did for 5Rhythms, Soulwave, Movement medicine Workshops as well as "Yoga with Live music" Sessions. Its organized in an energetic flow, that could easily be followed as a dance routine. The pace starts gentle, picks up momentum up to peak and then comes down again. Wether you just want to listen, bop about or have a full blown workout! I tremendously enjoyed polishing the ideas I captured in my live performances - and there is lots more to come!!!
I give my gratitude to all who have supported me during this project: Anna my beloved wife, David Rose for making me part of his team, Yaacov & Susannah Darling-Khan for being friends, mentors and wise "youngers" to my curious soul, Heike Sparmann and her wonderful Partner Rafael Corrales-Vidal, my buddy and Friend Stef for his advice and criticism and all of the dancers whom I had the privilege to play to.
released August 2, 2018

Volker Kaczinski: Flutes, Saxophone, Keyboards, Drum programming Mixing & Mastering
https://music.imusician.pro/a/prqoD-PT/

Also available on Soundcloud:
https://volkerkaczinski.bandcamp.com/album/all-you-can-dance

______________________________________________________________________


This album is a body of work that has emerged over a space of more than 4 years. Even though it felt frustrating at times to be so slow at creating it - this has turned out to be a blessing: It really gave me space to stand back and listen anew at each stage of conception of this music. I am proud to say: It sounds as good as I could ever imagine it!!
The addition of overtone singing and blending it with my saxophones, flutes and all the electronic multitude of sounds and rhythms, as well as having the more than generous contributions by my friends and co-musicians Gabriella Strümpel ( Cello) and Murat Kayi ( Guitar and elctric bass ) has been an exiting adventure.
May the magic of sound and music inspire all of you dancers, singers and listeners out there!
released November 26, 2019

Volker Kaczinski: Tenor Saxophone, Flute, Overtonesingin, Keyboards, Drum& Synthesizer programming, Soundengineering & Mastering
Gabriella Strümpel: violoncello
Murat Kayi: guitar

https://music.imusician.pro/a/rY4-eFt-/

Also available on Bandcamp:
https://volkerkaczinski.bandcamp.com/album/shine-on

______________________________________________________________________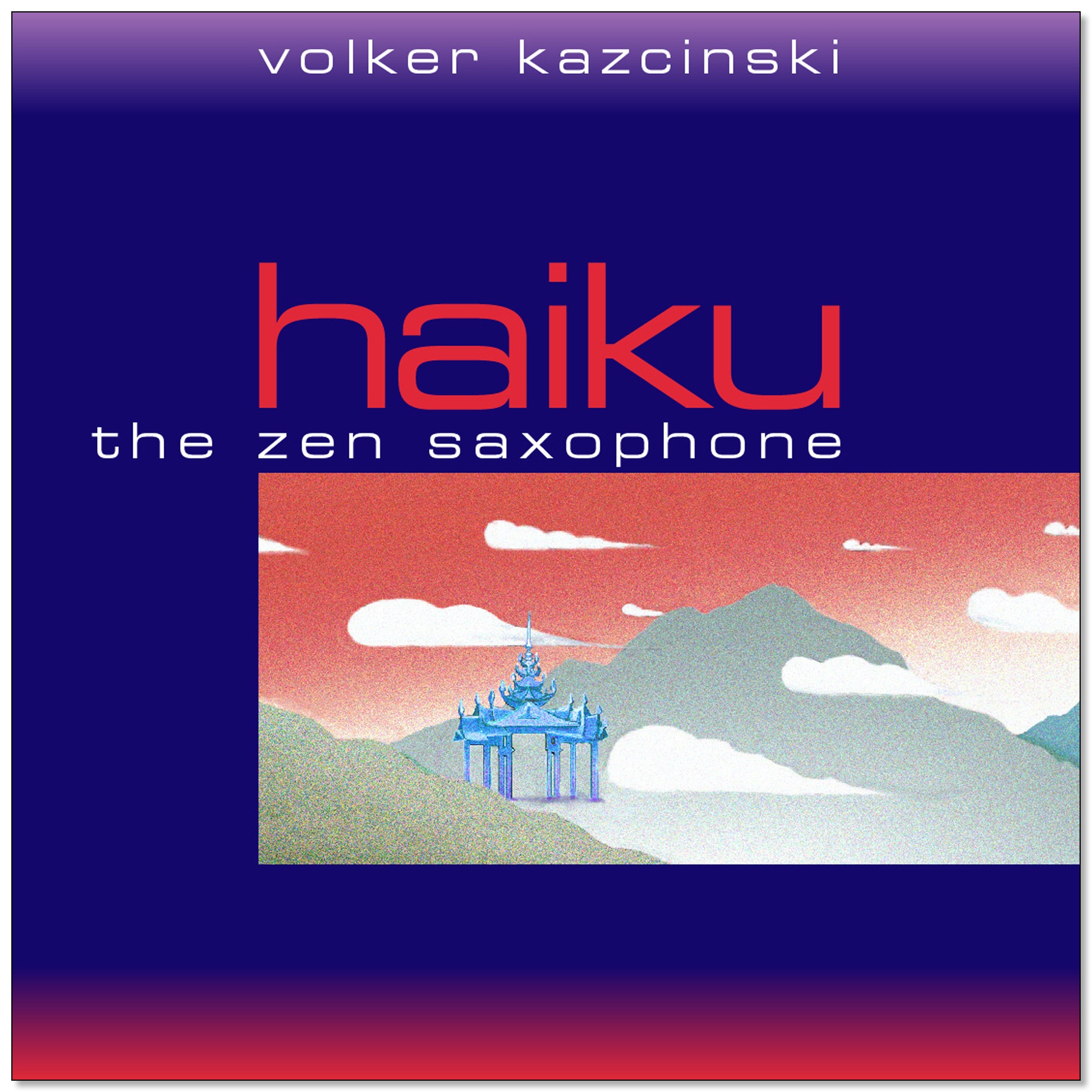 Meditations and improvisations for Soprano Saxophone
Informed by the Japanese Zen tradition, classical Indian music and jazzimprovisation.
The titles themselves are Haikus, which describe simple events or perceptions, whose timeless magic unfolds out of the willingness to be present.
Short themes form the basis of the improvisations, which invite the listener into the realm of meditation.
released November 25, 2019

Volker Kaczinski: Soprano Saxophone

https://music.imusician.pro/a/gkUEhTUi/


Also available on Bandcamp:

https://volkerkaczinski.bandcamp.com/album/haiku


______________________________________________________________________



Spacy Flutes with gentle synth and atmospheric vocal backdrops create: Music for relaxation, massage, meditation, superlearning and Tai Chi. Most tracks are recorded at 60 bpm and create an atmosphere that invites the listener to let go and recharge.

Musik zur Entspannung, Massage, Superlearning,
Meditation und Tai Chi.
Die meisten Stücke sind im 60bpm Tempo ( Schläge pro Minute) aufgenommen und schaffen eine Atmosphäre, die zum loslassen und Auftanken nach einem anstrengenden Tag einlädt.

released November 27, 2019
Volker Kaczinski: Flutes, Synthesizer, backing Vocals, Soundengineering.

https://music.imusician.pro/a/bRhTowU5/

Also available on Bandcamp

https://volkerkaczinski.bandcamp.com/album/the-pace-of-peace

______________________________________________________________________



An album of smooth flutemusic, dominantly indian Bambooflutes ( Pansuri ) with orchestral arrangements, gentle percussion.
The short descriptive stories invite the listener to go on a journey with the music, as the tracks unfold.
Perfect for relaxing, Yoga, Massage or as backdrop for those everyday chores, whre you need to keep a calm and clear mind!
released November 28, 2019

Volker Kaczinski: Bamboo and Silver Flutes, Keyboards, Saxophones, Drum-programming, Sound-engineering

https://music.imusician.pro/a/s3WjV86B/

Also available on Bandcamp:
https://volkerkaczinski.bandcamp.com/album/flutelands

______________________________________________________________________



New Age poetry/chants meets housebeats meets modern Jazz!:
Original Poems, Prayers, Lyrics and a couple of traditionals ( Own Shee Mala & Ajoh Singereh ) set to moving beats and arrangements featuring the briliant radiant voice of Gila Antara and the sometimes roaring , sometimes caressing sounds of Volker's saxophones and elaborate orchestral arrangements.
released November 29, 2019

Gila Antara: Lead vocals
Volker Kaczinski: Saxophones, flutes, Keyboards, drum programming and sound-engineering
various friends on guitar, drums, Berimbao, electric bass.

https://music.imusician.pro/a/6TrO_R9v/

Also available on Bandcamp:
https://volkerkaczinski.bandcamp.com/album/heaven-and-earth

______________________________________________________________________